Stewardship Schools Program
ONREP Stewardship Schools
Active:

McKenzie School District
Triangle Lake School
Butte Falls Charter School
Myrtle Crest Elementary School
Glendale School District
Tillamook School District

Sustaining:

Powell Butte Community Charter School
Vernonia School District
Fossil Charter School
Elkton Charter School
This is a partnership between ONREP and the educators, staff and administrators of a school or school district. Oregon Natural Resources Education Program (ONREP) facilitates training and supports educators in working together through collaboration and partnership to engage students in a place-based approach to teaching and learning using natural resources as a context for learning.
Vision:
Students become environmentally literate citizens equipped to make informed decisions, exhibit responsible behavior, and take constructive action to ensure a sustainable future for Oregon's natural resources.

Mission:
Prepare educators to engage and inspire students in relevant, meaningful, and inspiring natural resources learning experiences that contribute to student academic achievement.

Goal:
Provide teachers with strategies, information, and resources that increase capacity to engage learners, and instill confidence in teaching, through hands-on approaches that promote exploration, investigation, problem-solving, critical thinking, and personal responsibility.
Implementation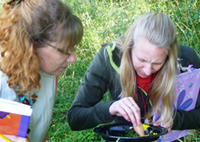 ONREP works in partnership with teachers and administrators to identify goals for integrating natural resources into the curriculum and then design a professional development program to meet the school's needs.  Through a series of professional learning workshops teachers: inventory their current practice; learn new strategies for using the environment to meet grade level and subject area goals to include authentic and relevant integration of science, technology engineering, art, math and language development; investigate community sites and resources; plan together in grade level groups, and work across grade level groups to scaffold student learning. Professional development provided by the ONREP SSP is interactive, collaborative, and immediately applicable.
How Do You Become a Stewardship School?
Potential Stewardship School Must:
Articulate an interest and commitment to pursuing a comprehensive approach to integrating natural resources education throughout your school.
Obtain commitment from 85-100% of the faculty and staff.
Request participation from ONREP prior to the upcoming school year.
Provide professional development time for faculty and staff.
ONREP's Commitment:
Provide 15-30 hours of professional development to teachers, support staff and appropriate community members spanning all grade levels within one school.
Design and provide training based on the needs of the school and within the scope of ONREP.
Provide materials, resources, tools, and strategies.
Continue support and collaboration with the school after initial agreements have been satisfied.
Stewardship School's Commitment:
Sustained participation from 85-100% of the faculty and staff.
Ongoing implementation and application of the curriculum and resources.
Continued and clear collaboration with ONREP.