Professional Development Overview
Impact Educators... Impact the Future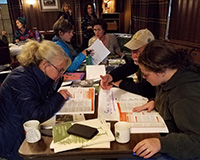 Our programming focuses on providing PreK-16 formal and non-formal educators in Oregon with understanding, knowledge, tools, and experience to confidently engage students, throughout their career, in learning through experiences with the natural environment.
The Oregon Natural Resources Education Program (ONREP) has been a leader in providing high-quality professional development programs for PreK-16 educators since its inception in the mid-1980s. Each year classroom, pre-service, and non-formal educators participate in workshops that provide curriculum, strategies, information, and resources that will help them engage students in relevant, meaningful, and place-based learning.
Effective and Proven
Through hands-on, interactive, and investigative strategies that foster how to think, not what to think, educators learn how to meet state and national learning standards while engaging students in nature-based learning that promotes the development of the critical thinkers and creative problem-solvers who are prepared for life and work in the 21st century.
Our programs are designed around best practices in education and professional development. All programs:
Address specific grades levels, topics, regions, and teaching situations.
Align to national and state educational standards.
Employ interactive, engaging, relevant, and immediately applicable strategies and ideas.
Utilize award-winning materials, natural resources content, tips and tools developed to engage students.
Provide time for participants to explore materials, learn content and develop a plan for using with their classroom.
Encourage participants to engage with other educators, resource professionals, and trainers.
Access the outdoors for learning sites.
Types of Programming
Workshops are offered at various locations around the state. Each workshop is designed for specific grade levels and focuses on natural resource topics and learning strategies. Workshops offered during the school year are generally 1-2 days. Often summer workshops and institutes are several days. Find them on the Register Now page under "Workshop Selections". The Stewardship Schools program is designed to help schools use the environment as a comprehensive context for teaching across the subjects in each grade level. For more information on this program, contact us at .
Cost
No cost for registration or workshop materials to Oregon educators unless otherwise noted on our website.
Substitute reimbursement is provided as needed when workshops are scheduled during student contact days.
Professional Development Units are available for all workshops.
Graduate credit is available for some workshops, and is on the workshop description and registration page. Participants are responsible for fees incurred with their graduate credit.