Outdoor School
OSU Extension Outdoor School Program and Oregon Natural Resources Education Program
Brief History:
In November 2016, Oregon voters passed Ballot Measure 99, authorizing funds from the state lottery to provide all fifth- or sixth-grade students in Oregon access to a week of Outdoor School. Measure 99 provided the funding for the Outdoor School law, which was passed by the Oregon Legislature in 2015.
Every Oregon student in fifth OR sixth grade, including home-schooled and charter school students, will have the opportunity to attend a weeklong Outdoor School program, or an equivalent outdoor education experience that reflects local community needs, provided their school district or education service district (ESD) applies to receive funding for an eligible Outdoor School program.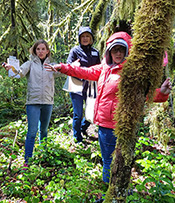 More Information:
For further information about Outdoor School, check out these resources:
Working Together:
The OSU Extension Outdoor School Program and Oregon Natural Resources Education Program work in collaboration to provide high-quality professional development for people (formal and non-formal educators) involved in preparing students for success before, during, and after their experience of Outdoor School.
All Outdoor School Professional Development workshops are listed with the ONREP workshops and designated with an ODS at the beginning of the title. Register for a workshop today!