What is an ONREP/PLT Facilitator?
As a facilitator for ONREP you will have the opportunity to:
Teach professional adults about forestry education and motivate them to use forests as a focus for teaching youngsters
Contribute to your community's understanding of forests and forest related issues
Gain hands-on experience teaching adults in a supportive learning environment
Attend on-going training sessions to learn new skills in forestry education, communication, and field techniques
Find out the latest information on forest research and management
Become an integral part of an international network of professionals in the fields of forestry, natural resources, education and interpretation
Explore parks, forests, tree farms, arboretums, mills and other interesting places in your community
What is expected of an ONREP/PLT facilitator?
A dedication to an unbiased approach to forestry education
A desire to utilize your skills and experience to further forestry education efforts in Oregon
A willingness to learn and apply new skills gained by attending ongoing training sessions
A commitment to conduct at least two 6 hour Project Learning Tree workshops within the 2000-01 academic year.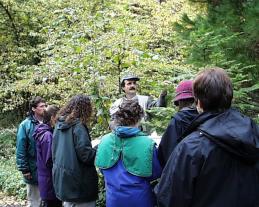 What will you do as an PLT facilitator?
A facilitator serves as a guide, helping workshop participants gain a better understanding about the PLT program, its methodologies, and potential impacts on children's environmental awareness and understanding. As a facilitator, you set the stage for learning and encourage participants to explore and develop as professionals. Your role is to help people feel comfortable in the group, to listen as much or more than you talk, and to help others understand what they have learned.
A PLT workshop facilitator must put his or her biases and interests aside. This is admittedly difficult because many of the issues we talk about and many of the PLT activities we work with touch meaningful aspects in our own lives. It is important that you help participants make their own observations, interpretations, and conclusions and to assist them in discovering the potential PLT holds for them as educators.
The workshop format should show school teachers how to use PLT to teach science, math, language arts, social sciences, art, health and physical education. Non-school educators such as outdoor school teachers, interpreters, docents, or youth organization leaders should be shown how PLT can be used to enhance or compliment their work with both children and adults.