Researcher-Teacher Partnerships
Making global climate change relevant in the classroom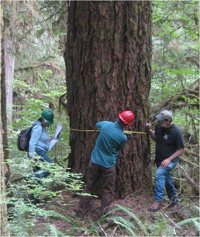 Our need for citizens prepared to understand and address the major environmental and societal challenge of climate change is critical. The Researcher-Teacher Partnerships project engages 7 - 12th grade teachers in professional development to (a) advance their personal knowledge of the fundamentals of global climate change; and (b) partner with scientists to research a particular focus area of global climate change; in order to (c) integrate this knowledge and experience into their classroom teaching of Science Technology Engineering and Math.
In the Researcher-Teacher Partnerships project, researchers, teachers, and science educators formed working groups around global climate change topics. Teachers were supported by OSU science educators in using the content from invited speakers and research experiences, ideas for education tools from the professional development parts of the experience, and applicable state standards and STEM to develop and implement thematic units that promoted students' understanding of global climate change.
The project included two weeks for participation in a research experience and one week (split at the beginning and end) of training to introduce teachers to key climate change topics and support application to the classroom. Participants committed to being involved for at least one year of the project period, but several were involved for the entire project period (2011- 2014).
There are currently no Researcher Teacher Partnerships workshops coming up, though follow up workshops with previous participants are on-going.
Participants have:
Worked side by side with scientists doing cutting edge climate change research.
Increased their content knowledge in science and understanding of the process of science.
Developed professional contacts in the research and teaching communities as resources for their enrichment and personal growth.
Developed and implemented a thematic unit that promotes students' understanding of global climate change and meets state standards.
Received six graduate credits (optional), a $2,000 stipend, housing expenses and some meals, funds to purchase classroom supplies.
All research experiences in 2014 were based at the H.J. Andrews Experimental Forest, Blue River, OR (July 22 – August 2, 2013)
The Researcher-Teacher Partnership project provides opportunities for middle school and high school teachers to partner with scientists on research in a particular focus area of global climate change, specifically in one of four thematic areas:
Past patterns of climate change
Bryan Black applies tree-ring (dendrochronology) techniques to the growth increments of long-lived marine and freshwater species with the goals of 1) establishing long-term relationships between ocean productivity and climate, 2) quantifying relationships among diverse species and ecosystems, and 3) reconstructing climate, especially ocean temperature and circulation, prior to the start of instrumental records. Bryan plans to focus this third year on synthesis of data collected the past two years in order to submit a paper to a peer-reviewed journal, but he welcomes teachers who are new to this project as well. New teachers involved would work on a simple, but rigorous tree-ring chronology that would be very applicable to classroom work as well as be a part of the team tying tree-ring records to long-term climate datasets for use in the classroom.
Earth's landscapes from space
Peder Nelson and Warren Cohen work in the Laboratory for Applications of Remote Sensing in Ecology (LARSE), where satellite and aircraft-based measurements are used to better understand Earth's landscapes. Warren and Peder focus on capturing dynamic landscapes in action using time-series historical satellite imagery to observe natural and human-caused changes, processes, and events as they occur. (landtrendr.forestry.oregonstate.edu/).
Climate change impacts on snow in the Willamette River Basin
Anne Nolin and Travis Roth look to the future to assess how a changing climate will affect our snowpack. Through the application of a spatially distributed snow model and quantifying the response to local meteorological and vegetation controls, this project is focused on snowmelt dynamics in a mountainous environment over long timescales.
Forests and carbon
Mark Harmon and Rob Pabst have been investigating how carbon flows into, around, and out of forests in the Pacific Northwest for over 20 years. This topic is of increasing importance as forests are potentially one way to mitigate the changes in climate associated with the use of fossil fuels. This summer we will measure and map trees in two permanent plots. The plots are located in an area that partially burned in the 1800's, leaving remnant old-growth trees and several cohorts of younger age classes. Using the data we collect we will examine trends and changes in growth, regeneration and mortality since the last measurement in 1997.
What current participants say:
"The research experience... provided an opportunity to discuss with colleagues their teaching practices, activities surrounding climate change and ideas about teaching science. This rich environment of scientists and teachers energized and rejuvenated me for the upcoming school year."
"These experiences have given me a deeper and more rounded understanding of climate change and the sicence surrounding it. I feel more literate on the subject, and I'm much more likely to make connections between whatever subject I am teaching and climate issues."
"The workshops and the research experience has increased my science knowledge, exposed me to current scientific research in the field of climate change and provided me [with] several resources that will ultimately improve my teaching."