Hummingbird Citizen Science Project
Do you want to engage your students in authentic scientific research?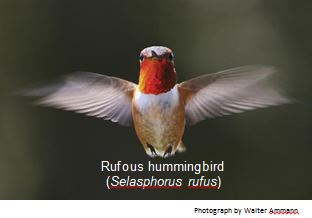 The Rufous hummingbird is a key pollinator, but its population in the Pacific Northwest is declining. We invite you and your students to join us in a citizen science effort to collect data on hummingbird activity in the Willamette Valley and other areas of Oregon to better understand the reasons for this decline. 
Project Details
January 20, 2016, teacher workshop, Corvallis, OR: Teachers will learn about the hummingbird project, review hummingbird protocols, practice pollinator games, and explore hummingbird data. Substitute reimbursement is provided.
March – April, 2016, Hummingbird data collection: Students track hummingbird activity in their schoolyard and their own yards for 2 – 6 weeks. Each participating classroom will be provided with hummingbird feeders for class data collection near their school; additional feeders will be provided for students whose families are willing to support them in data collection in their yards. Protocols are available in Spanish.
June 27 & 28, 2016, 2-day teacher workshop, H.J. Andrews Experimental Forest (HJA): Teachers will reflect and refine their work from the spring and explore ways to expand the hummingbird citizen science project to a full integrated unit or science inquiry piece. Teachers will also deepen their understanding of the process of science and pollination ecology, and help with ongoing hummingbird research during this two-day workshop. Lodging and food will be provided as well as an opportunity to sign up for one graduate credit (if enough are interested). 
This is a research project. By registering for this project, please plan to work in partnership with the researchers to ensure success for the project and success of the students.
For more information, read this paper recently published in The Science Teacher about the project, read this article, and visit the hummingbird citizen science project website.