Engaging Teachers and Students
...with Your Science
Why should you work with the Oregon Natural Resources Education Program?
Funders are looking for projects that deliver significant broader impacts. We want to connect teachers to resources that build their understanding of the natural environment as well as to content and activities that they can use with their students. The Oregon Natural Resources Education Program (ONREP) is a proven K-12 education partner that can help you obtain funding. We understand how to integrate research and outreach objectives so your project doesn't overwhelm you. We're skilled at scaling projects up or down based on your resources.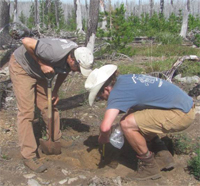 The Oregon Natural Resources Education Program provides:
An on-campus partner that understands your needs
Decades of experience working with educators and thousands of their students throughout Oregon and beyond
A successful system for partnering with scientists on their broader impacts objectives, from grant-writing support to project implementation and reporting.
National education connections that would support our leading large-scale education projects.
Programming that follows best practices for effective professional development.