Grades K-2

Project Learning Tree Curriculum:
 

Available by attending an on-line or in-person workshop
Experiences for Early Childhood contains 130 activities that engage young children, ages 3 to 6, in outdoor exploration and play.

 

PreK-8 Environmental Education Activity Guide contains 96 multidisciplinary activities (46 PreK-12) that integrate core discipline areas, including STEM subjects, reading, writing, and social studies. 

 

Available for purchased in a printable format and/or as an e-unit
PLT's GreenSchools for Early Childhood program is designed to teach young children about their environment and how they can make a difference. Includes an educator guide and five Investigations.

 

PLT's Treemendous Science! is an online e-unit. Students will experience, explore, and collect tree data to develop understandings about how trees grow, the roles trees play in ecosystems, and the ways in which trees and humans interact
 

 

Proyecto WILD contains translated activities from the Project WILD K-12 Curriculum  and Activity Guide and the Project WILD K-12 Aquatic Curriculum and Activity Guide.

 

Available by attending in-person workshop only 
Project WILD K-12 Curriculum and Activity Guide contains multidisciplinary grade-specific activities that integrate core discipline areas.

 

 

 

Growing Up WILD is an early childhood education program that builds on children's sense of wonder about nature and invites them to explore wildlife and the world around them.

LEARNFORESTS is the K-12 specific website of the Oregon Forest Resources Institute.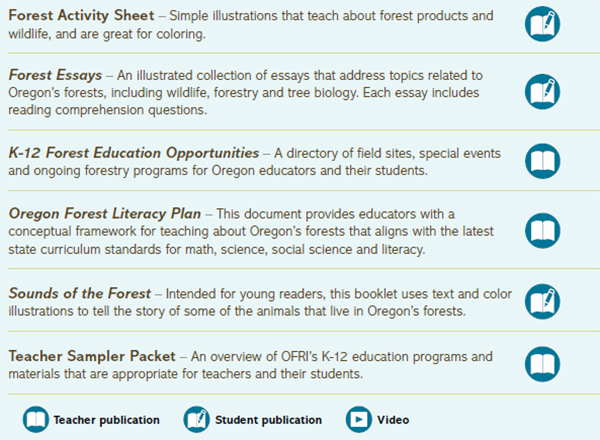 Check It Out: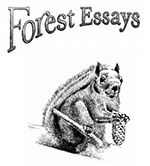 Other Resources
Young Learner Book List (pdf)

Talk About Trees - An interactive, science-based program for pre-school through eighth grade students. Classroom presentations classroom use forest artifacts, displays and hands-on activities to present an interactive presentation about forestry and Oregon's forests. Cost: Free