Facilitation Overview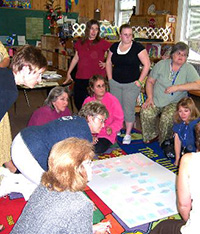 ONREP In-person Workshops are designed and delivered by individuals - facilitators, who have expertise and experience in education, environmental education, and natural resources. They are current or retired classroom teachers, non-formal educators (4-H, Scouts, after-school programming), and professionals from natural resources organizations and agencies (nature centers, museums, aquariums, zoos, etc.). Our ONREP facilitators are committed to providing high-quality professional development for PreK–16 educators, and commit to ongoing training to ensure that programming meets the needs of educators and their students and helps educators use the natural environment as a basis for teaching.
Our facilitators work in teams and with the ONREP staff to design and deliver programming that models a "student-centered approach" to outcome-based learning. New facilitators participate in an orientation and are mentored into the program by working with experienced facilitators in delivering programming.
ONREP facilitators have gone through an application process, attended extensive yearly training, and are continually mentoring and being mentored. Facilitators agree to follow the guidelines and procedures set forth by ONREP, and to conduct at least one, one-day workshop each year. After attending a workshop, if you are interested in finding out more about ONREP facilitation, please contact the ONREP Coordinator through our "Contact Us" form.
ONREP also works with college and university faculty and instructors who integrate natural resources into their courses providing their pre-service students with the PLT and/or Project WILD curriculum, resources, strategies, and activities they can use immediately.